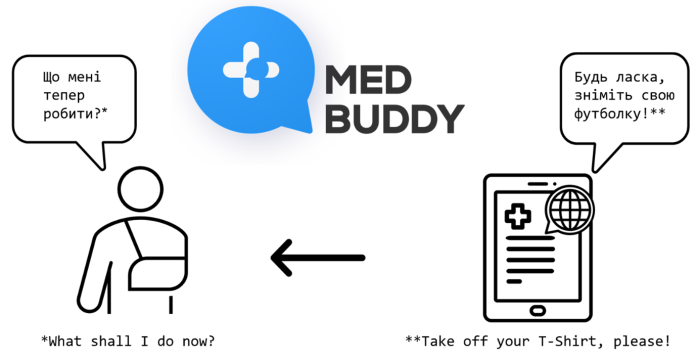 What is the problem we are trying to resolve?
Miscommunication between patients with language proficiency and healthcare professionals has a negative impact on the quality of care as it may lead to conflicts, stress, less satisfaction, and worse clinical outcomes. When a professional interpreter is not available, healthcare workers often get by with gestures or facial expressions. The use of language translation tools contributes to breaking the language barrier but there is more room for improvement.
What is our vision?
Med-Buddy's goal is to offer translated common phrases used in radiological settings to help enhance the communication between patients and healthcare workers when they don't share the same language, hence decreasing stress, and improving the workflow. Med-Buddy also aims to improve the patient's cooperation and adherence to examination protocol and increase their safety and satisfaction. The software is installed on a tablet and includes features beyond simple translations, such as audios and pictures, tutorial videos provided by a virtual human.
The users can choose the needed language and required radiological examination. A virtual human explains, informs, and instructs audibly, visually, and in text. We aim to preset the most common phrases. Med-Buddy aims to complement the information process and assist patients and healthcare workers when facing language barrier.
A project at the St. Pölten University of Applied Sciences
Master Program Digital Healthcare
Project Coach: FH-Prof. Dipl.- Sporting. Dr. Mario Heller
Team members:
Silvia Angjeliu, Nadine Heckenast, Joanna Malec, Markus Ochsenhofer, Julie Regondique