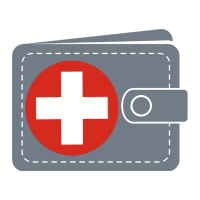 The aim of eHealth Wallet is to close the gap between pre-clinical examinations and hospital admission.
At the moment, still most of the medical reports and images are paper-based. Patients need to carry these with them when admitted to the hospital.
The paper-based records and images have to be scanned and imported into the Hospital Information System by hospital staff, which means that human resources and a lot of money are wasted by an inefficient hospital admission process.
The aim was to create a mobile application where every user keeps his medical data on his own device. There will be no synchronization of any data via the internet. eHealth Wallet stores locally. The generated health data at the hospital can be transferred from the doctor's computer system via FHIR interface over Bluetooth (paired by NFC) to the eHealth Wallet application on the patient's phone. Afterward, the patient can transfer user-defined data to other healthcare providers with the same technique.
A mobile Android-based prototype of eHealth Wallet has been created and tested.
By designing a 'Business Model Canvas' and a 'Value Proposition Canvas' the benefits for the involved user groups were defined and the way to bring the app successfully to the market was outlined.
A project at the St. Pölten University of Applied Sciences
Master Program Digital Healthcare
Project Coach: Jakob Doppler