INTRODUCTION
With the conventional nurse call button, there is no differentiation between requests. Every alarm has to be regarded as urgent. Thus, we have developed a prototype of a smart and affordable nurse call system.
PAR®OT – CALL ME BY YOUR NEED
A web browser-based application that prioritizes requests and enables the healthcare professional to work more efficiently.

The patient gets to choose from a list of the most frequent patient requests. Once a request has been selected, nurses can respond to it. No more shrill alarms, unnecessary disturbances or ambiguity about alarms.

PAR®OT ESTABLISHES COMMUNICATION.
USE YOUR OWN DEVICE
FOR PATIENTS AND HEALTH CARE WORKERS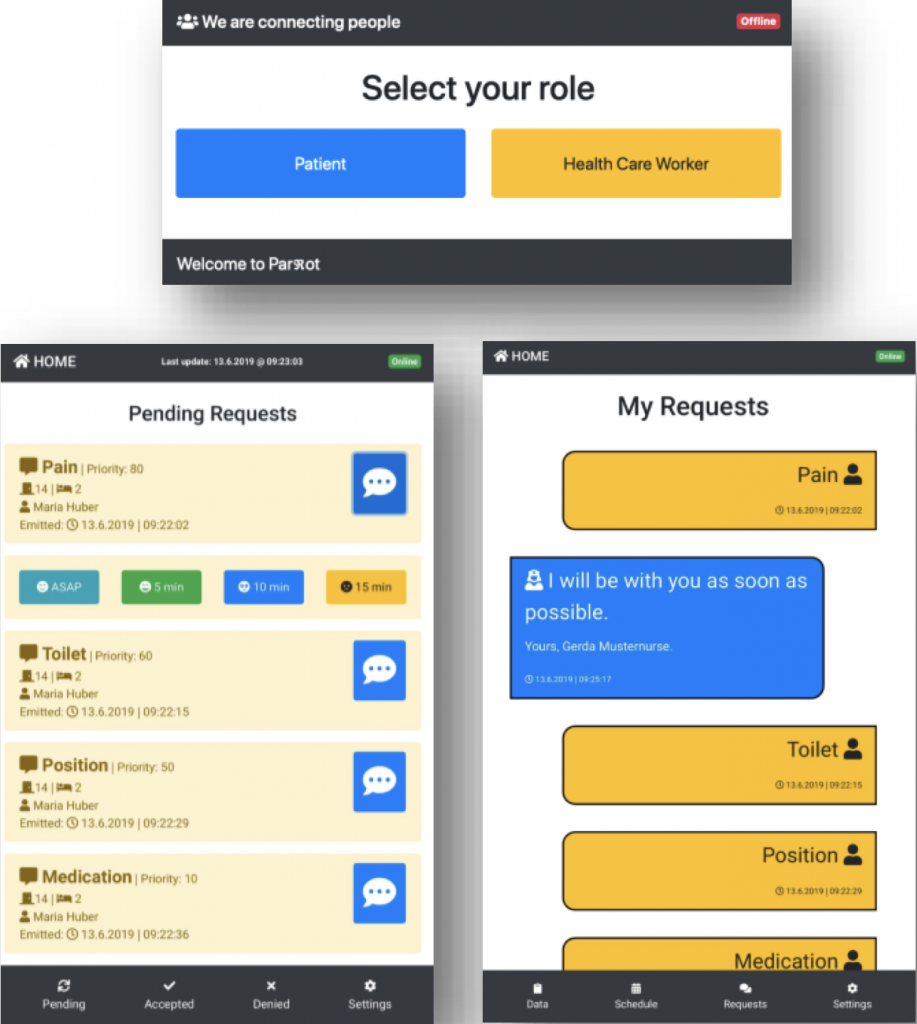 Healthcare professionals receive patient requests arranged by their urgency with options to send responses. These are then displayed in the "Requests" section of the patient application, providing instant feedback to the patient.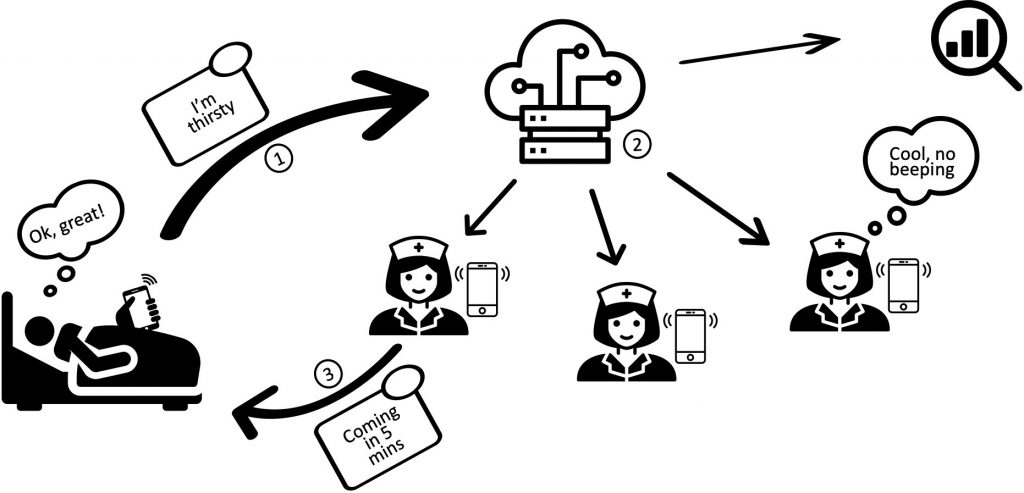 Evaluation
The prototypical implementation of PAR®OT was evaluated by guided interviews with public health experts ranging from nursing staff to hospital IT experts. The overall feedback after having the chance to explore the application was affirmative.
Main benefits and prospects were perceived in its resource management capabilities. The application allows patients to notify their caregivers about their needs. Consequently, the staff can visit the patient prepared for the respective need or even redirect tasks to colleagues if necessary.
However, the biggest emphasis was put on its usability. Icons, color schemes and differentiation features are considered good, but have to be perfected. As for instance the icon size should be made adaptable. Likewise, options to automatically transfer request if not responded to within a certain timeframe are desirable. Such a tool could boost patient satisfaction and improve request triaging.
If change is supposed to happen it needs a cost-effective, contemporary and easily implementable tool. PAR®OT already paved the way in the right direction, but still has a long way to go to meet the standards and demands necessary for a real-world implementation.
A project at the St. Pölten University of Applied Sciences Master Program Digitale Healthcare
Project Coach: FH-Prof. Jakob Doppler, MSc
Brochure vector created by katemangostar – www.freepik.com