PARKTIV – a mobile exergaming-app as a supporting motivator for movement in parks for children, Part II: Design & Assessment
Aim and Research Question(s)
Parktiv is a game for children and their families that encourages them to be active in parks. The goal of this thesis was to redesign Parktiv as a low-threshold game, with motivational visual experience.
Background
To promote health, children and adolescents should be physically active, every day for a minimum of 60 minutes, with at least moderate intensity [1]. The risk of metabolic diseases, such as type II diabetes mellitus, overweight and morbid obesity can be significantly reduced by physical activity [2].
Methods
An adapted user-centered design process was chosen for the redesign and development:
First, a literature and market research were conducted
A family-persona, scenarios of interaction and context of uses were created with the results from an online-questionnaire with (grand-)parents
In a workshop with children the game design, game mode and game instructions were presented and feedback was retrieved
Finally, in an evaluation workshop the children completed questionnaires (FUN Toolkit, FUN ranking and open questions) after a play-through with the click-prototype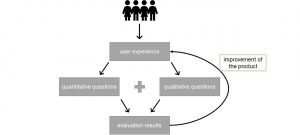 Figure 1: Evaluation and iteration
Results and Discussion
The target group itself was surveyed for the game mode [3]. The result was that six out of eight children preferred to play with family and friends rather than against them. The prototype was tested with six families in a public park in Vienna. The results from the questionnaire indicate that the children liked Parktiv, the idea of playing a game in the park and all could imagine playing Parktiv again. The role of an "agent" had been created - to have an interaction with the game. The character, other figures and the primary colors received ratings of "like it very much" and "like it" exclusively.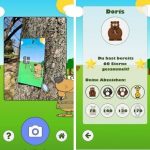 Figure 2: Screens from the prototype
Conclusion
Parktiv was consistently liked by the test subjects. The understanding and execution of the exercises did not cause any problems for the participants. The game instructions were more difficult for the younger participants to grasp. Therefore, a short and age-appropriate video should be created for further development. Variety could also be created with the expansion of parks in which Parktiv is available to play.
References
[1] R. Bauer, E. T. Dorner, and Felder-Puig, R., 'Österreichische Bewegungsempfehlungen', 2020. [2] M. Mayer et al., doi:10.3109/03014460.2014.907444. [3] A. M. Marker and A. E. Staiano,  doi: 10.1089/g4h.2014.0066.