Increasing digital literacy: Development of wireframes for a platform supporting municipalities in implementing offers for older people
Aim and Research Question(s)
The aim of this master thesis is to develop wireframes for a web-based platform for municipalities in Lower Austria. The platform will help to sensitize and motivate municipal staff regarding the topic of increasing digital literacy. For this, the following research questions were defined:
What approaches to increase digital literacy in the area of social integration already exist at the municipal level that meet the individual needs of older people?
How can municipalities be supported to be able to provide needs-based learning and support possibilities for digital literacy for older people?
Background
The use of digital media can have a positive effect on the social integration of older people. However, they do not always have the necessary digital literacy and are not constantly supported in learning or improving them efficiently as well as according to their needs [1]. Municipalities are important players in the design and implementation of support services [2].
Methods
To answer the research questions, a research on initiatives was used to analyze the different approaches for supporting older people in learning digital literacy.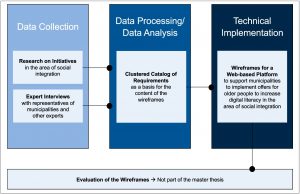 Four expert interviews supplemented the results with the point of views of two municipalities, one initiative, and an expert in the field of gerontology. The interviews were analyzed using qualitative content analysis according to Braun & Clarke. The results of both methodological parts were summarized in a clustered catalog of requirements and included in the development of wireframes using the tool Figma®.


Results and Discussion
The clustered catalog of requirements consists of five themes of the initiative research and ten themes of the expert interviews. In the following, two of 23 wireframes are shown. The landing page of the platform can be seen on the left. One of the subpages, the so-called service catalog for finding the suitable role an individual municipality can help, is presented on the right.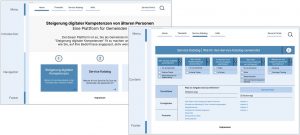 Conclusion
In summary, municipalities have an important role concerning the implementation of learning opportunities. The wireframes for the web-based platform give an idea of how municipalities can be introduced to the topic of increasing digital literacy among older people and what roles municipalities can take on.
References
[1] Stubbe, J., Schaat, S., & Ehrenberg-Silies, S. (2019). Digital souverän? Kompetenzen für ein selbstbestimmtes Leben im Alter. Bertelsmann Stiftung. DOI 10.11586/2019035 [2] Berner, F., Endter, C., & Hagen, C. (2020). Ältere Menschen und Digitalisierung - Erkenntnisse und Empfehlungen des Achten Altersberichts. Bundesministerium für Familie, Senioren, Frauen und Jugend. https://www.bmfsfj.de/resource/blob/159456/ 3dab099fb5eb39d9fba72f6810676387/achter-altersbericht-kurzfassung-data.pdf