Design and conceptual development of an interactive exchange platform for lymphoedema patients
Aim and Research Question(s)
This thesis aims to investigate the potential of a digital exchange platform with a matchmaking function for lymphoedema patients to find and interact with like-minded affected supporters. This should allow them to provide peer support to each other, exchange their experiences on how to best cope with the chronic disease and improve their social participation. The following questions should be addressed:
Which functional and technical requirements must the exchange platform fulfil?
How do lymphoedema patients rate the user experience?
Figure 1: LympHelp Mobile Version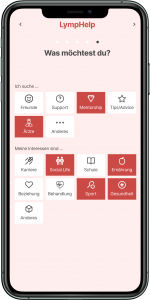 Background
Lymphoedema patients are vulnerable to several psycho-social issues since coping with the chronic condition frequently leads to reduced social interactions and isolation. Concerns about the quality of life, social marginalisation, and the limited medical expertise of healthcare professionals are frequently raised by patients. The healthcare professional's knowledge and lack of assistance affect patients' daily lives. Therefore, it is essential to look into potential strategies to enhance lymphoedema patients' living circumstances and boost their autonomy and possibilities for social interaction, as these factors are frequently overlooked in treatment practices.


Methods
A literature and initiative review in lymphoedema was undertaken to determine the application's needs. These specifications were then turned into a prototype, which was assessed by eight lymphoedema patients. The questionnaire contained the System Usability Scale (SUS) and seven additional qualitative questions.
Results and Discussion
The literature and initiative review results showed that participating in support groups is essential for lymphoedema patients. However, online support is scarce and based on one-way communication. There is no digital exchange platform with a matchmaking function currently on the market. Participants evaluated the prototype a good usability and well-suited for lymphoedema patients. They intend to use the software in future to connect with others.
Figure 2: System Usability Score LympHelp

Conclusion
The outcome clearly demonstrated that potential users find the platform usable and favourable. Therefore, it should be further developed and improved. Additionally, further tests will also help the platform improve and add new features.
References
[1] Schulze, H., Nacke, M., Gutenbrunner, C., & Hadamitzky, C. (2018). [2] Schaeffer, D., Schmidt-Kaehler, S., Dierks, M.-L., Ewers, M., & Vogt, D. (2019). [3] Fu, M. R., Ridner, S. H., Hu, S. H., Stewart, B. R., Cormier, J. N., & Armer, J. M. (2013).