An analysis of elderly people obtaining health-related information and the creation of a mockup based on the results of this analysis
Aim and Research Question(s)
The aim of this study was to identify how the older generation (people over the age of 65) obtain their health-related information and how information gathering can be ensured even in times of a pandemic. Based on this, a mockup was created, and a usability test was conducted thereafter. The results of the analysis and the usability test were acquired by a random sample of the Austrian Heart Association.


Background
The Centers for Disease Control and Prevention (CDC) reported that emergency admissions declined rapidly, after COVID-19 was declared a pandemic. Visits to the emergency room related to heart attacks, hyperglycemic crisis and strokes were decreasing compared to the first four months of 2020 [1]. Especially cardiovascular diseases are still the most common cause of death in Austria [2]. Therefore, it is important to strengthen health literacy, especially in pandemic times when people are isolated, and to ensure access to health information for all to prevent the so-called corona collateral damage syndrome [3].
Methods
As a prerequisite, a literature review has already been conducted to delineate the most important key words and key points. Afterwards, an online questionnaire was sent to the Austrian Heart Association to identify how they gather health-related information. Participants (n=26) of the online questionnaire were all older-equal 65 years. After the online questionnaire, a mockup was created based on the results, followed by a usability-test. Participants (n=6) of the usability testing were all aged between 71 and 80 years.
Results and Discussion
It has been shown that the subjects gather health-related information from doctors, as well as from the Internet. Furthermore, it has been figured out that 24 out of 26 have a Smartphone and 18 people indicated Android as their operating system whereas the others use iOS. Due to the results of the online questionnaire, the mockup was developed for smartphone usage. The mockup was generally rated as very user-friendly and achieved a mean score of 1.17 for the overall grade, using the school grading system.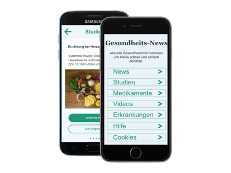 Limitations of this thesis are that the online survey biased to determine results of so-called Onliners [4]. Furthermore, the question remains who will develop the application and take over the maintenance and upkeep it to provide information according to state-of-the-art.
Conclusion
Results show that a user-friendly mockup does without elaborate graphic presentations. Deliberate attention was paid to the seniors' limitations, which are, for example, visual, tactile, cognitive and auditory issues [5].
References
[1] Hartnett et al., 2020, p. 699-704 [2] Statistik Austria, Todesursachenstatistik, 2020, p. 1 [3] Ramshorn-Zimmer et al., 2020, p. 1205 [4] Seifert et al., 2015, p.37 [5] Darvishy et al., 2013, p. 5-6doi: 10.1007/978-3-662-58225-1.